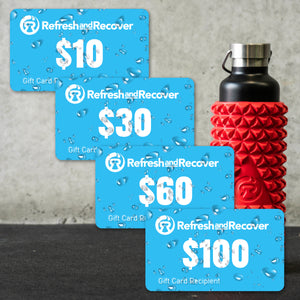 🎁 A special something for someone special perhaps? 🎁

Refresh and Recover gift vouchers available in 

$10 || $30 || $60 || $100

Refresh and Recover is a hybrid foam roller and drink bottle that makes sure you've got both hydration and foam roller available when you need it most.


✔️ High quality materials

Designed in New Zealand from the highest quality materials to guarantee clean tasting, pure hydration.


✔️ Strong and reliable

 Easily supports up to 120 Kilograms!
✔️Cool & refreshing for longer

Insulated to keep your fitness drink of choice cold and refreshing to slake thirst throughout the toughest workouts.